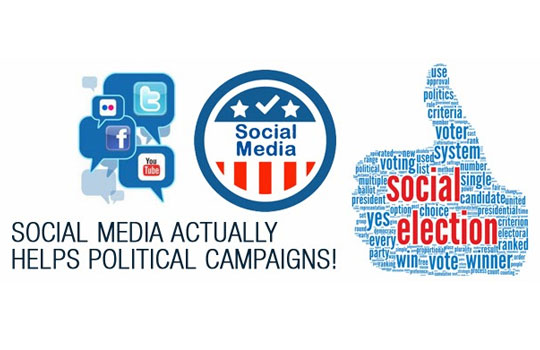 India's 16th National general election which was held in nine phases during April and May, 2014. It was probably one of the most awaited elections in the recent times. It was due to the changing Politics of India. Social media played a vital role in deciding which party wins the most seats. A interesting report published in April 2013 by the Internet and Mobile Association of India (IAMAI). The Mumbai-based Iris Knowledge Foundation, assisted IAMAI in the study. Don't you think herein, you should learn about social media marketing courses in Mumbai? Facebook users have a tremendous impact over the results of the polls in 160 of India's 543 constituencies. The reason for this is the youth of India. As per study, 50% of population is below 25 age group. Secondly, 65 % is below 35 % age group. This population is either studying in college or working in various companies. Companies such as IT companies, BPO's, research centers and various other sectors or are either entrepreneur. Their busy schedule has created a virtual distance between television and radio. It is especially in case of acquiring or sharing information. The youth is tech savvy and love being connected with updated trends and topics. Such connectivity is possible by using laptops, desktops or the most favorite a network connected mobiles.
Social Media – Only way to reach out to youth
Even though politicians for their campaign still use posters, cut-outs, fliers, graffiti and personal rally's to reach and win over voters but with the social media changing the picture of urban India, political parties are becoming tech savvy and realizing that social media is the only way to reach out to the youth. For 2009 general election social media usage in India was little. Today, however, Facebook has 93 million users and Twitter has an estimated 33 million accounts in the country. As per the LAMAI report 2013 this change for presence of social media could be observed as every political party participating in 2014 general election has set an 2-5% of its election budget for spending on social media. The report says that the leading parties Bharatiya Janata Party (BJP) and Nation congress party has set this it 500 crores and 400 crores, respectively.
From the very beginning, Bharatiya Janata Party (BJP) has strong social presence. The BJP started using the social medium even before the 2009 general election. Mr. NarendraModi who was the Prime Minister candidate of BJP and all other members of BJP had very high popularity and a reach to general public using social media is as compared to any other parties. NarendraModi has the highest follower on Twitter and Facebook. AamAadmi Party or AAP which is a newly formed political party has quite high popularity as compared to the two old major parties – Congress and BJP. AAP is very active on social media channels. It was observed that even though AAP and BJP were fighting against each other on social media but the Congress party realised its importance quite late.
Social Media Strategy to Win Elections 2014 of Political Parties: BJP, Congress & AAP
"Twitter gives political organisations the ability to broadcast information on a worldwide stream (not just their subscribers), join any ongoing debates and discussions and have a two-way interaction with the public during political processes and campaigns," notes the study – The 2014 Indian elections on Twitter: A comparison of campaign strategies of political parties. The study, conducted by researchers from the department of communications, University of California, Davis, and Nanyang Technological University, Singapore, was recently published online in the journal Telematics and Informatics.
India is the third largest user of Twitter in the world, with an estimated 23.2 million active users, up from 11.5 million in 2013. Market researcher group Emarketer estimates that Twitter will have around 40 million users in India by 2018.
That is a sizable number. No surprise then that political parties are reaching out to voters with the help of social media arms such as Twitter.
BJP's Twitter feed lead the race
The study found that the BJP's Twitter feed dealt with campaign updates (28 per cent) and criticism of other political parties or moves (24 per cent). It also posted the second-highest in proportion and the highest in absolute numbers of self-promotion tweets (19 per cent as against AAP's 35 per cent).
The study says the BJP often tweeted the words "thank you" while the Congress's pet phrases included "Gandhi Gandhi" (in a single tweet). AAP used old emotional slogans such as "SatyamevJayate" and "Azaadiladai".
It concludes that the winning party's electoral success [in 2014] is significantly associated with its use of Twitter for engaging voters.
Not surprisingly, others are embracing Twitter. In Maharashtra, the BJP state unit campaigned extensively on social media for Assembly elections – and ended up forming the government in the state. Thus, there has been optimum use of social media in politics.
Social Media Savvy Politicians
Social media has become an integral part of our lives. Facebook and Twitter tend to provide news faster than most news channels today. Celebrities, sports stars and corporate head honchos are present on these sites so that they can keep in touch with people. They keep their fans and followers informed of latest updates, promote their work and listen to what people have to say.
Lately, many politicians have also taken to social media like a fish to water. The best examples are ArvindKejriwal and our Prime Minister NarendraModi. Their updates on Facebook and Twitter keep us informed about latest happenings and future plans.
Bottomline
These young politicians of India have adopted social media because they know that is where today's youth is. These leaders believe in inclusive growth and have always encouraged the youth to participate in politics. They believe, is instrumental in the development of Maharashtra and invariable of India. We encourage readers of this article to connect with these leaders and back them in their initiatives. Thus, advocating the role of social media in political campaigns to a great extent.
Reference by :-DigitalVidya